5 Reasons To Make Candles At Home
Here are five reasons to make candles at home with ten DIY candle ideas to spark your interest in candle making and get you started!
Is there anything like the warm, cozy embrace of candlelight on a chilly evening? Or the alluring aroma of a scented candle that fills the air, slowly shifting the mood.
If you've ever found yourself lost in the flickering flame of a candle, you've probably wondered: "Why not make my own?"
There's something gratifying about creating your own candles right in the comfort of your home. It's not just a craft; it's a form of self-expression, a means to infuse your living space with your unique style and personality. But what's the real purpose behind the art of candle making?
I'll let you in on five compelling reasons why you should consider taking up candle making as a worthwhile hobby. And trust me, it's not just about saving a few bucks on store-bought candles (although that's a nice bonus!).
As someone who adores candles of all kinds, I can tell you that candle-making has evolved into my absolute favorite DIY craft. There's an undeniable satisfaction in crafting something with your own two hands, and when that something is as delightful as a homemade candle, it's pure bliss.
So, if you haven't yet tried your hand at creating candles, let me spark your interest and ignite your creativity with these five reasons to make candles at home.
For your convenience, this post contains some affiliate links; read the full disclosure policy.
What's Holding You Back?
Worrying about candle problems holds many back. I understand if you have concerns about candle issues like tunneling or scented candle mistakes.
I've been making candles for almost ten years now and have certainly made my fair share of candle-making mistakes. But I don't give up easily when I put my mind to something.
That's why I created the candle troubleshooting guide I wish I had when I began making candles years ago. It's a comprehensive list of common candle problems and how to solve each one.
So, you can make great candles from the start!
Related To: How to Make a Candle Last Longer 
Don't Know How Much Wax To Use?
Another thing that stops so many from learning how to make candles is the math! Yes, I said – candle making requires math.
But if you can bake a cake – you can make a candle!
All you need is a liquid measuring cup and an inexpensive digital kitchen scale; then, I'll do the rest. With my easy-to-use candle wax calculator, all you have to do is measure the ounces in your candle container and count how many candles you're going to make. 
It's that simple, so you don't need to feel stuck when it comes to how much wax you'll need to make a candle.
Say goodbye to the uncertainty with these reasons why making candles at home can be such a rewarding and fulfilling experience. Trust me; you won't want to miss this!
Related To: What's The Best Candle Wax?
5 Compelling Reasons to Make Candles at Home
I adore candles of all kinds, and over the years, candle-making has become my favorite DIY craft. If you haven't tried candle making, I'm sharing the top five reasons why making candles at home is something you most absolutely should give a go!
Reason #1 Satisfaction
Candle making is a soul-satisfying craft. If you share a desire to create something with your own two hands that lasts longer than a slice of cake, candle making is for you.
It's easy to quickly fall in love with the experience of slowly stirring creamy melted wax, blending it with rich, captivating aromas, and pouring it into unique vessels and shapes.
The soft, warm glow of candlelight that follows creates an ambiance that's eternally inviting. It's a time-honored tradition that fills your space with comfort.
In fact, I'm so passionate about it that I wrote a book! Start reading Creative Candles Made Simple today.
Reason #2 Scent Is Everything
Candle scent is everything. According to Travel and Leisure Magazine, scented candles create a soothing atmosphere and help boost your mood while calming your mind and relieving stress.
You can create a scented candle just for you. Take my candle scent quiz to find your twin flame.
Creating your own blend of candle scents is inspiring. But you can also control the fragrance's strength to make strong or lightly scented candles. It's all up to you when you make candles at home. 
Reason #3 Costs Less
Is it cheaper to make your own candles? Absolutely, making candles can save you money. You can make quite a lot of candles with a 5-pound bag of wax that costs less than the famous volcano candle.
And you can save even more money by reusing candle containers!
Reason #4 More Eco-Friendly
Not only can you go green by upcycling containers such as glass yogurt jars or coffee mugs (Make sure you don't use these containers for candle making), but you also make more eco-friendly choices.
This includes selecting natural candle ingredients to avoid releasing harmful chemicals into the air. Yes, you can skip the petroleum-based waxes and lead wicks when you make candles at home. 
Reason #5 Made By You
There's power in those three words: Made – By – You.
One of the most appealing aspects of making candles is the freedom to fully express your creative side. When you step into candle crafting, you become the artist of your own ambiance.
You have the choice to select the scents, containers, styles, and colors that resonate with you and complement your home decor.
How Do You Make Candles?
I'm so glad you asked, Ha Ha! Explore these ten inspiring DIY candle ideas to ignite your passion for candle making and kickstart your creative side!
Then check out my Creative Candles Made Simple book or beginner's candle-making guide for helpful insight.
10 DIY Candle Ideas For Beginners
1. Simple Tea Light Candles
Why not start with something easy, like these simple tea light candles? In just four steps, you can make a dozen tea lights! 
2. Milk & Honey Scented Beeswax Candles
I can assure you that these milk and honey scented beeswax candles are as sweet as can be. Poured into honeycomb ceramic bowls, they're a beekeeper's dream!
Place one in the kitchen or guest bath, or give a honey candle to a friend who loves honey bees. I know they're sure to please.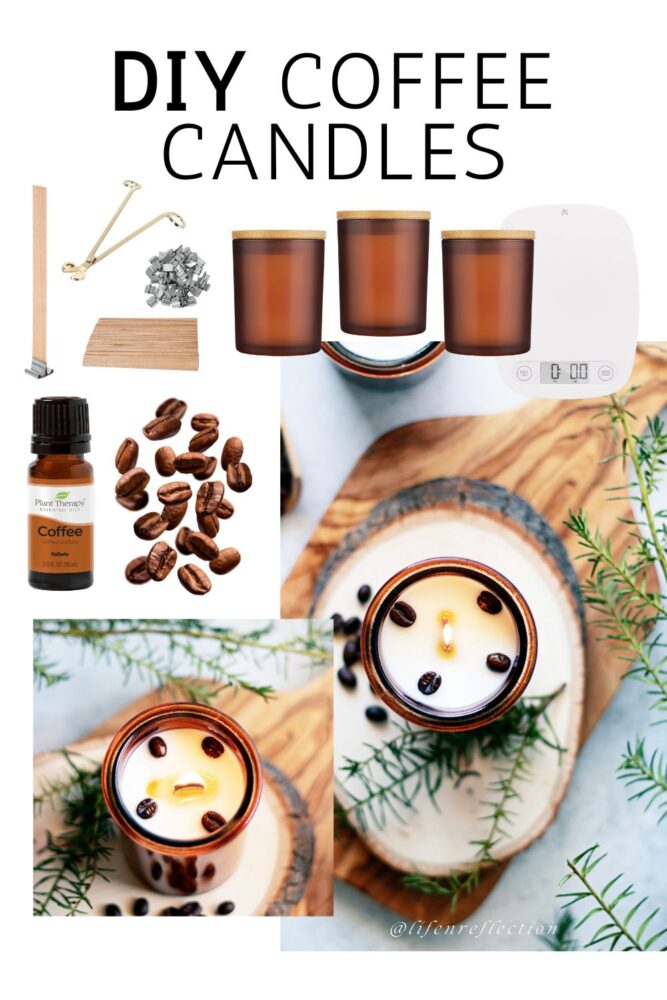 3. Cracking Wood Wick Coffee Bean Candles
Do you love the aroma of roasted coffee beans? Why not make coffee bean candles with crackling wood wicks? The combination is incredible! Find everything you need pictured above in my shop and follow these instructions to craft your own. 
4. Beeswax Candle Tapers
Hand-rolled beeswax candle tapers have a timeless appeal. The fern leaves secured with gold flake wax seals stamped with a honey bee only add to their beauty.
And they couldn't be more simple to make. Follow these easy steps to make your own, and don't forget the supplies. 
5. Eye-Catching Candle Bowls
In the spark of a candle flame, we can find refuge. And these fall candle bowls do not disappoint! They are an eye-catching design featuring dried orange, apples, and whole spices tucked into dreamy smooth soy wax inside white ramekins with an embossed leaf pattern.
Fall or not, if you love warm, spicy aromas, I know you'll agree the candlelight of these candle bowls is as beautiful as they are cozy. Place one on your mantel, entryway table, or next to the bathtub to soak it all in.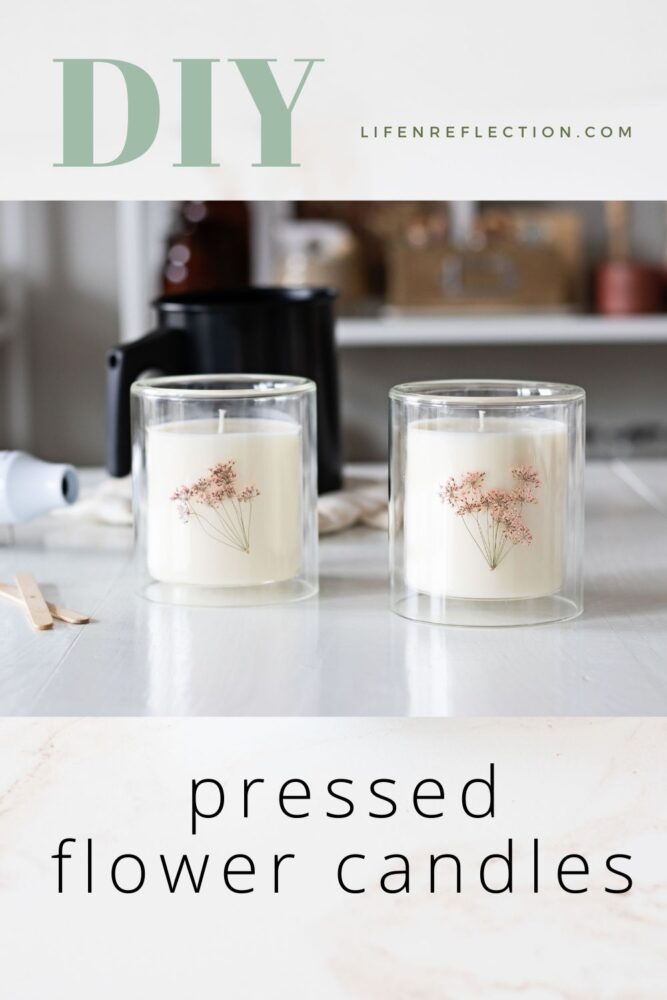 6. Pressed Flower Candles
Don't let the detailed look of the pressed flower candles intimidate you. How do you make pressed flower candles in a jar? There are a few ways to go about it, but this method is by far the easiest!
7. Vanilla Coconut Candles
If you are finicky about scented candles, whether allergies, toxins, or just a classy nose – a.k.a, you're drawn to the pricey stuff; then you have even more reason to grasp how to make scented candles.
Make these creamy vanilla coconut candles with an aroma of decadent sugared vanilla lightly swirled in creamy coconut. Find all the supplies pictured above in my shop. 
8. Dried Flower Candle Melts
Do you want to practice melting and blending wax and fragrance before investing in candle containers?
Even if you've never made candles, candle melts are a simple way to make fragrant wax. It's a project perfect for beginners, as well as a beautiful craft to enjoy with friends. Start with these dried flower DIY candle melts!
9. Easy Sugar Mold Candles
Or maybe you've had your eye on those displays of sugar mold candles at every antique market and farmhouse decor shop. This is how to make sugar mold candles at home for less money! The tin cups make it so easy to replace the candles after you've burned them down.
10. DIY Citronella Candles
And if it's an eco-friendly citronella candle, you're after. Well, you can make those too! Here's how to make a DIY citronella candle the right way with real citronella oil and other natural ingredients.
For many, including myself, the joy of candle making extends beyond the final product and lies in the creative process itself. Whether you're crafting candles just for you, as thoughtful gifts, or even for sale, the capacity to personalize every element ensures that each candle becomes a genuine reflection of your individuality—crafted by you.
YOU MAY ALSO LIKE:
Share this list of reasons to make your candles on your DIY Candle Ideas Pinterest board, and while you're there, be sure to follow Life-n-Reflection for more inspiring ideas.
Did you know you can Tag #lifenreflection on Instagram to share your candles?