Looking for an Eco Friendly DIY Air Freshener?
I don't know about you, but I am always looking for practical ways to freshen our home. Be it a sweet-scented lemon-vanilla linen spray, a hand-poured candle, or a citrus summer stovetop potpourri I enjoy making each DIY air freshener.
For many of us, homemade air fresheners are all about capturing the aroma of an experience we connect with like the beauty, splendor, and awakening only found barefoot and intertwined in my herb garden. With the rub of a single mint leaf or the brush of my hand against rosemary or lavender growing in the garden, aromas fill my senses with little to no effort.
I'd compare the experience to a coffee lover taking in that first deep breath and taste of their morning coffee.
Or the memories and sweet scents of a baking lemon pound cake, pumpkin bread, and cinnamon rolls in my mothers' kitchen.
It's not surprising that there are countless air fresheners available today. But, not all are a good choice for our homes.
This post contains some affiliate links for your convenience, read full disclosure policy.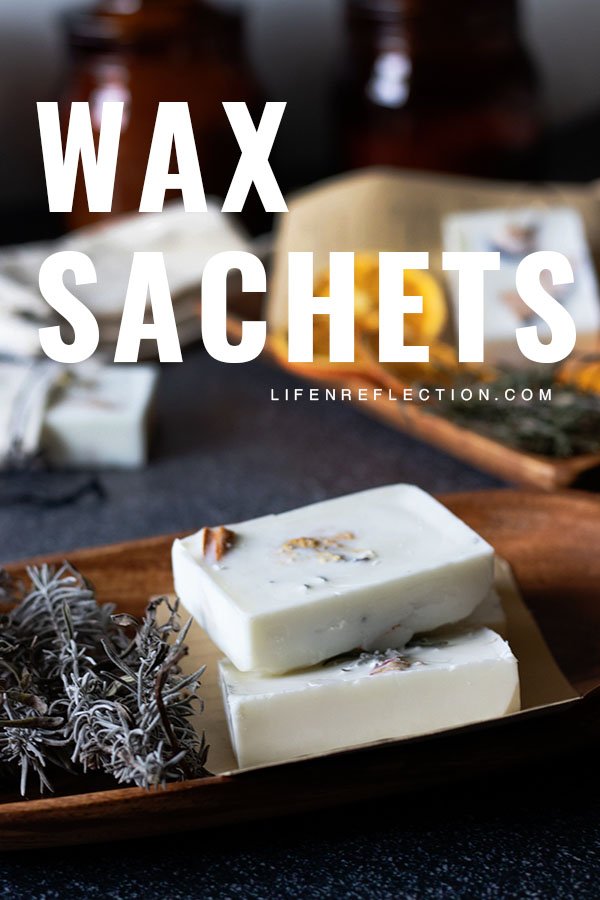 What's wrong with most store-bought air fresheners?
Just take, for example, automatic misters found in nearly every public bathroom or the plastic wall plugin bulbs and car vent devices that are tossed after the scent dissipates. As I wrote about in a recent article at the Herbal Academy, the latter creates unnecessary waste, but all these air fresheners add up to significant hazards for our health and environment (Amerelo & Geller, 2018).
That's right, most store-bought air fresheners contain hormone-disrupting phthalates and carcinogenic chemicals (Farley, 2016). However, filling our homes with refreshing aromas doesn't need to involve saturating the air with chemicals that can impact our health in negative ways. Instead, we can create DIY air fresheners.
Related To: How to Make Candle Wax Melts
Related To: Zero Waste Gift Giving Ideas
Creating Wax Sachets: An Eco-Friendly DIY Air Freshener
If you're asking yourself, "How can I make my air freshener eco friendly?" it starts with ingredients with natural strong aromas, like those used for perfume notes, that can freshen the air without the use of chemicals for a better impact on your health and the environment.

And one of the best parts of creating a DIY air freshener is that instead of mimicking scents from the garden, memories in the kitchen, or a cup of coffee you can create an eco friendly wax sachet with handpicked herbs from your garden, whole spices, or coffee beans.
What is a wax sachet?
At this point, if you haven't seen a wax sachet before you're likely puzzled. A wax sachet is an entirely natural way to fill your home with fragrance, made of soy wax or beeswax, dried herbs and fruits, and whole spices.
Many find them the perfect alternative to candles. You can capture a fragrant cold throw without worrying about a flame. This is particularly helpful for those with pets that like to climb on furniture or little hands that haven't learned the danger of putting a finger or hand in an open flame.
Speaking of candles, if you have ever ventured into the art of candle making you'll find herbal wax sachets a complete breeze to make! No need for measuring or centering any wicks for instance. Wax sachets are in fact, a practical, yet beautiful way to capture the essence of your favorite scents.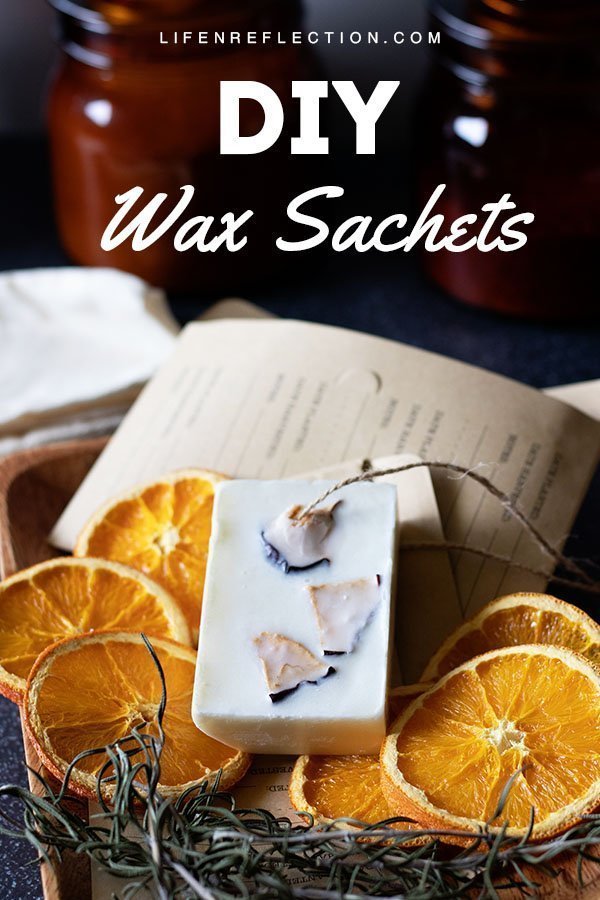 What Do You Need To Make A DIY Air Freshener Wax Sachet?
These zero waste air fresheners are really simple to make. All you need for this wax sachet recipe is soy wax, herbs, a few cinnamon sticks, and an orange.
For tips on how to prepare herbs for wax sachets as well as an in-depth guide on choosing other fruits for wax sachets, join me at the Herbal Academy. You can also find 3 ways to dry herbs here or buy them already dried listed in the following recipe. And for instructions on how to dry oranges in the oven follow the steps below.
How to Dry Oranges:
1. Wash and dry one or more oranges. Slice each orange into ¼-inch thick slices.
2. Arrange the orange slices on a baker's drying rack instead of directly on the oven rack to avoid slices falling to the bottom of the oven as they dry and slightly shrink. Place orange slices just far enough apart that the edges aren't touching.
3. Place the orange slices arranged on the baker's drying rack into the oven and set the temperature to your lowest setting available. A temperature between 150 to 200 degrees Fahrenheit is best.
4. Baking time will vary from 2 to 4 hours depending on the heat of your oven. The orange slices are dry once the center of the fruit has congealed or solidified and therefore dried out. Dried orange slices will feel crisp and lighter in weight than their fresh counterparts. It's a good idea to set a timer so you remember to flip each slice and check on their drying progress every 45 minutes.
5. Once dried, carefully remove the baker's drying rack from the oven and place over the stovetop or over a heat resistance surface to cool. Allow each dried orange slice to cool before use.
Once you've dried your orange slices it's time to get to the wax sachet recipe!
DIY Air Freshener Wax Sachet Recipe:
How To Make Scented Wax Sachets:
1. Safely melt 1 pound of soy wax flakes in a candle melting pitcher by placing the pitcher inside a large saucepan filled with 2 inches of water. Heat on medium to low heat with a gentle simmer, using the double boiler method on the stovetop. Stir often with a heat-resistant silicone spatula.
2. Once melted, remove the pitcher from the stovetop immediately to avoid the wax becoming too hot, or worse, smoky. Clip a candle thermometer inside of the pitcher to measure the temperature of the wax. Allow the wax to cool to 125°F to 120°F before adding the orange and cinnamon essential oils. Stir constantly for 1 to 2 minutes to thoroughly incorporate the scent.
3. Next, pour the scented wax into a six-cavity rectangle silicone mold. Once you have filled each cavity, cut or tear a dried orange slice into smaller wedges and carefully place in each cavity. Add one to two large calendula flowers, a whole or chopped cinnamon stick, and top with a dried sprig of rosemary.
4. Last, allow each wax sachet to cool and harden for a few hours before removing each from the silicone mold.
This wax sachet recipe makes 6 to 8 wax sachets depending on the silicone mold you choose. Find a great list of silicone molds to choose from in my natural soap making supplies.
How do you use a wax sachet?
Each wax sachet can be used similar to other DIY air fresheners such as lavender linen sachets and potpourri by placing one in a decorative dish or bowl. Or tucking a wax sachet into your desk drawer or dresser drawers. I have them in both.
Another great idea is to package them inside small, natural linen drawstring bags, perfect for zero waste gift giving! Tie the bags closed to hang in your coat closet or pantry. No matter the arrangement, the wax sachets are a fantastic eco-friendly DIY air freshener that will add a breath of fresh air to any area you use them!
How long do wax sachets last?
Wax sachets will last for years! How long does the scent in a sachet last? Most will have their strongest aroma during the first two months. But, if you keep a scented wax sachet away from direct sunlight and open-air breezes the scent will be much stronger for months to come. It really comes down to how your store sachets.
You May Also Like:
Join me over at the Herbal Academy where I share how to make beeswax sachets with rose petals, lavender, cranberries, calendula flowers, rosemary, orange slices, and more. Trust me you've got to see these – they are so beautiful!!
Want even more ideas on choosing scents to make DIY air fresheners? Grab a printable perfume note guide in the Resource Library.
Have you ever made a wax sachet? Tell me in the comments below. Pin this easy wax sachet recipe to make a DIY air freshener with your favorite scents. Tag #lifenreflection on Instagram to share yours with us.
References:
Amerelo, M. and Geller, S. (2018). Chemicals in everyday products rival cars as a source of air pollution. [Online Article]. Retrieved from https://www.ewg.org/news-and-analysis/2018/02/chemicals-everyday-products-rival-cars-source-air-pollution
Farley, P. (2016). Essential oil diffuser recipes: 100+ of the best aromatherapy blends for home, health, and family. Charleston, SC: CreateSpace.