No One Can Resist These Homemade Fall Candles!
These twenty-five homemade fall candles are made with the best fall candle scents to make your home smell exactly like autumn!
Now that we are well into fall, I'm enjoying anything and everything fall-related. Fall is by far my favorite season, But it always seems to end too quickly. I can't get enough of the colorful fall foliage, apple orchards, fall festivals, pumpkin patches, and walking our vizsla on cool, crisp mornings. Don't you agree?
Making fall scented candles is one of the ways I've found to extend the season as long as possible. It's a beautiful pairing of things I love most: candle making + fall.
There's nothing better than walking into a room that smells amazing and matches the seasonal mood! Right?
What are some good fall scents?
Crisp Apple
Pumpkin
Cinnamon
Pecan Pie
Chai
Nutmeg
Cardamom
Pumpkin Spice
Ginger
Clove
Salted Caramel
Mulled Cider
Who isn't drawn to these fall candle scents? I think they are some of the best the season offers – Which are your faves?
For your convenience, this post contains some affiliate links; read the full disclosure policy.
Related: Why I'll Never Buy Another Room Spray
Why buy when you can make homemade fall candles?
After dragging my feet for too long, I was convinced that candle making was a very complicated process – I went all in! Over the last seven years, I have learned everything I could about candle making and how to make strong scented candles naturally.
And Guess What?
It was much easier than I had anticipated. And the good news is you can make your own candles too!
So, how do you make fall scented candles? If this is your first time making candles, I highly suggest checking out the candle resource area. I found soy candles easy to start with, as I share in my complete guide to soy candle making.
Plus, don't miss this printable list of the best fall candle scent recipes! Use it like a recipe book to make more fall scented candles. You can also find many tools and cheat sheets like candlewick sizes, wax types, and more in the Life-n-Reflection Simple Living Library.
Related: Homemade Winter Spice Potpourri
25 Irresistible Homemade Fall Scented Candles
Now, let's get to it! It's officially fall, which means it's candle season. Put it into high gear with these 25 homemade fall candles made with the best fall candle scents.
Fair warning: You might have a hard time choosing which one to make first! I've made several of these, and they are next to heaven.
1. Crisp Apple Soy Candles
Are you drawn to fresh, fruity candle scents? I most certainly am!
Apple is our family's favorite fruit. I bake with it most in autumn, but we enjoy apples in recipes during every season. Maybe that's why many Americans agree that the scent of crisp apple soy candle jars is a classic scent to be enjoyed year-round! Here's how to make Crisp Apple Soy Candles in a Jar.
2. Mulled Cider Candle Tutorial
Fall is here! That means baked goods, yummy scents, and cozy sweaters. It's also the time of year when we really start thinking about gift-giving!
Anyone would love to be gifted a DIY Mulled Cider Candle. I love that this candle tutorial includes a pretty tag to go with them.
3. Fall Favorite DIY Essential Oil Pumpkin Spice Candles
For me, the sweet, spicy aroma of popular pumpkin spice is my must-have fall scent! Recently published in the Autumn Issue of Willow and Sage Magazine, this recipe for Pumpkin Spice Candles is made with a combination of essential oils. Make a batch for yourself in an hour's time!
4. Orange + Rosemary Soy Candles
Rebecca Levander says the holidays are one of her favorite times to DIY. And her recipe for Orange + Rosemary Soy Candles is satisfying and straightforward to make. Make one of these fall candles for your home or a batch to give as holiday gifts.

5. Authentic Spiced Chai DIY Candle Melts
I love to sip a cup of hot tea, and spiced chai tea is my favorite. Making my home smell like a cup of spiced chai is just about as good as drinking it. Turn your favorite cup of tea into candle melts, too! That's how this recipe for Spiced Chai DIY Candle Melts came about.
6. Pumpkin Pie à la Mode DIY Candles
Bring warmth into your home with the scent of Pumpkin Pie à la Mode Candles from Popsugar. Made with spices in your kitchen, bring subtle undertones of this favorite holiday dessert into your living spaces.
7. Fall DIY Wax Melts
You can enjoy the most delicious harvest aromas and take advantage of every fall craving with easy candle wax melts! Capture the scents of the season with these Fall DIY Wax Melts in the shape of mini pumpkins, no less.

8. Slow Cooker Pumpkin Spice Candles
Who knew you could make candles in a crockpot? Amy, the founder of Mom Advice, says she's been hooked on making candles in her crockpot since she first tried it. And she readily confesses to being a pumpkin spice addict, too (same here, Amy). Learn how to make slow cooker pumpkin spice candles.

9. DIY Gel Air Freshener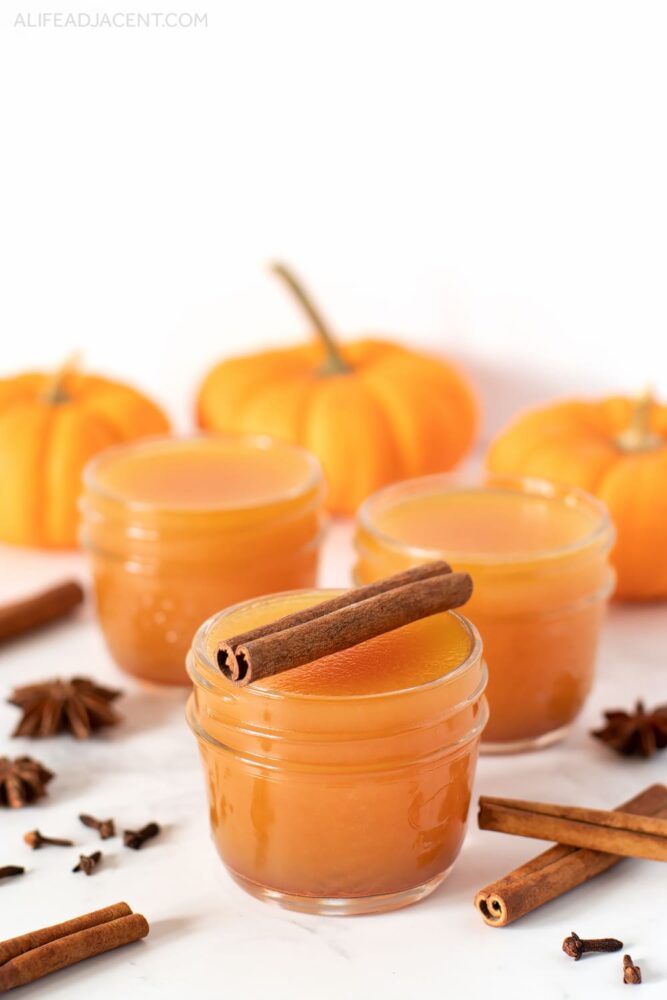 So, this is not exactly a candle, but when I came across this fun fall DIY, I had to include it here! Kim and Kyla confess making gel air fresheners is an easy and inexpensive way to make your home smell good. And this fall favorite gel freshener tutorial evokes pumpkin pie's sweet and spicy scent!
10. DIY Pumpkin Spice Candles – A Fall Candle Recipe with Essentials Oils
Learn how to make DIY pumpkin spice candles with soy wax and essential oils! The homemade candle tutorial includes a pumpkin spice essential oil recipe. And the candle-making instructions come with free printable candle labels and gift tags to package and decorate your all-natural soy candles for gifting.
11. Coffee Cake DIY Wood Wick Candles
If you haven't heard, I'm obsessed with the aroma of coffee. I've made coffee body scrubs, bar soap, and coffee wax melts! In the fall, I crave coffee cake topped with cinnamon -mmm.
So, I am sharing a tutorial for coffee cake DIY wood wick candles, including a complete wood wick candle guide.
Did you know you can use beeswax to make fall candles, too? Check these out!
12. DIY Beeswax & Coconut Oil Candles
Caitlin and Manda, writers of the Merrythought, love to keep things cozy with flickering candlelight. Their recipe includes a simple combination of beeswax and coconut oil. Try it for yourself here.
13. Classic Rolled Beeswax Candles
Hand-rolled beeswax candles are a classic in any season. But I especially love them in the fall and winter months.
What's the best part about how to make rolled beeswax candles? Once rolled, these candles are ready to use! There's no waiting time for candle wax to harden and cure.

14. Beeswax Mini Tart Fall Candles
Cyd at The Sweetest Occasion says she is partial to making candles with beeswax. She explains that, unlike unhealthy paraffin wax, beeswax can actually help purify the air in your home. And the natural color and scent are quite pleasing. Learn how she uses beeswax to make Mini Tart Fall Candles.

15. Spiced Candles for Fall
This is another excellent, inexpensive option made with affordable kitchen spices, coconut oil, and beeswax. The result is lovely fall spiced candles perfect for filling your house with yummy smells without using artificial fragrances or purchasing anything extra. Merissa at Little House Living says they only take a few minutes to make!

16. Hand-Dipped Beeswax Taper candles
Shaye at The Elliott Homestead goes into great detail about how burning a beeswax candle purifies the air. It's a must-read, and while you're there, learn how to make these gorgeous hand-dipped beeswax taper candles.
Who Can Resist These Creative Candle Containers to Make Fall Candles?
17. Easy Coffee Mug Candles
Make an irresistible enamel coffee mug candle or re-purpose any mug with our easy candle wax calculator. DIY candles hand-poured into an enamel mug seriously make a great handmade gift for men or women.
Fill an outdoorsman enamel mug with a rich coffee aroma or an earthy wood scent he'll enjoy. Or blend a dreamy latte or hot cocoa scent into a farmhouse-style enamel mug for her. Seriously, aren't these darn cute?
18. Creative Lettering Fall Candles
First, hop on over to download a lettering template from Rosy. Then, use the template and instructions to transform a glass jar like the picture above. Fill it with any fall candle recipe here!

19. Pressed Flower Mason Jar Candles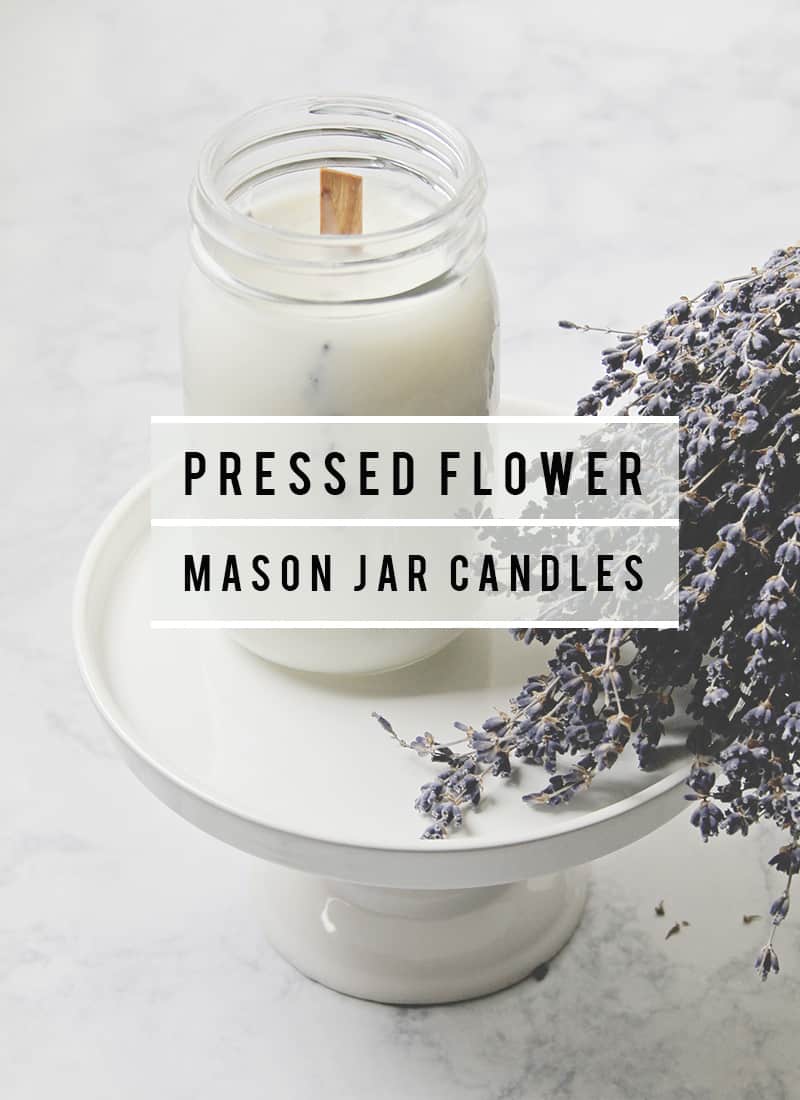 Save your lavender cuts from the garden or purchase a dried bundle at the farmer's market to make these natural soy pressed flower mason jar candles.
Once you've learned the technique to make pressed flower candles, you can experiment with just about any flower or dried herb from your garden.
20. Cinnamon Pumpkin Candles
Who can resist bringing home handfuls of cute little pie pumpkins? The creators at Hello Glow certainly couldn't. But instead of baking half a dozen pies, they created adorable Cinnamon Pumpkin Candles.

21. DIY Tea Infused Scented Candles
Do candles have a calming effect on you? Fran at Fall for DIY says it helps her slow down and focus. I couldn't agree more! Fill a pair or two of adorable mugs with a tea-infused candle from your favorite autumn tea.
22. Fall's Signature Candle Scent
It seems everyone has a pumpkin spice candle recipe to share, including Martha Stewart! The go-to scent of the season takes center stage in these fun and easy DIY Fall Scented Candles.
And when poured into tinted orange mason jars, they're given an especially autumnal glow. These make for great gifts or an easy way to add a touch of fall décor to your home.
23. Apple Cider Candle Tins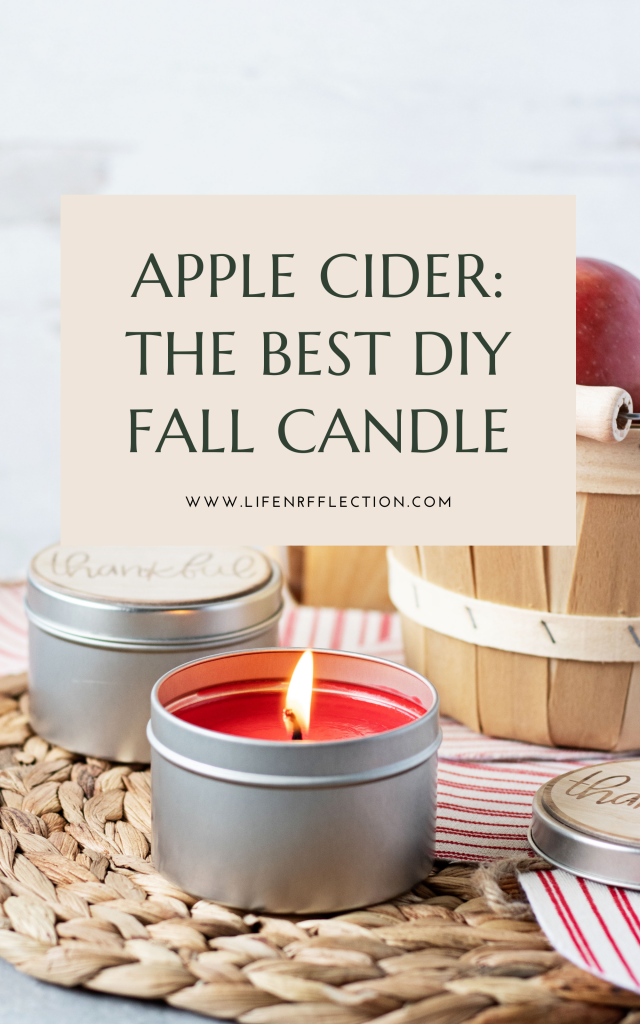 Does anything sound more perfect than a misty autumn morning, watching fall leaves gently dancing to the ground with a cup of warm cider between your hands and a handmade fall candle twinkling on the windowsill?
Well, with this all-in-one candle-making kit, I show how to make easy Apple Cider Candle Tins from start to finish!!

24. Eye-Catching Fall Candle Bowl Tutorial
A fall candle bowl does not disappoint! They are an eye-catching design featuring dried orange, apples, and whole spices tucked into dreamy smooth soy wax inside white ramekins with an embossed leaf pattern.
Learn how to make a DIY candle bowl perfect for the fall season in this tutorial!
25. Mini Pumpkin Spice Candle Mugs
Warm up your home with hints of cinnamon, orange zest, nutmeg, pumpkin, ginger, and clove. Just as your go-to fall latte never disappoints, neither will these mini pumpkin spice candle mugs!
If you adore autumn days and pretty much everything about the season as much as I do, I know you'll love creating your candles for fall, too. Pairing the aromas of the season with essential oils and spices is too fun to miss out on.
Which of these recipes are you going to make first?
Pin these 25 ideas for homemade fall candles now, and don't forget the free candle resources above! Tag #lifenreflection on Instagram to share your candle making with me.
P.S. Find all my favorite fall aromatherapy recipes in my book Aromatherapy: A Practical Guide for Home and Family. 25,000 copies sold and counting!